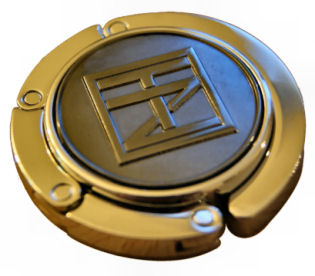 I know I've been inactive on this blog for the past few months, and I feel bad about that. So to segue me back into activity here on this design diary, I'm holding a bloggers' giveaway, just a small one. I'm giving away two Taryn Zhang purse hooks. (Click on that link for more info on these nifty little doodads.)
Why two? Well, dear, because it is the giving season now. One is for you, and one is for you to give away. =)
Whatcha gotta do? Here's a summary:
Checklist:

[  ] You're a blogger.

[  ] Leave a comment to this post.

[  ] Share link to this blog on FB or Twitter.

[  ] Follow this blog in your blog reader.

If you win and I've sent you the purse hooks:

[  ] Blog about this blog on your blog.
The winner will be selected at random about two weeks from now, on December 19.
That is basically all you need to know/do to enter. If you still have questions, though, more deets after the jump.
Now here are the guidelines in long form:
TO ENTER:
Bona Fide Blogger. You must be authoring a blog that to date has at least 5 entries. Hence the title "bloggers' giveaway." [And I reserve the right to refuse awarding you if, you know, your 5-entry-blog looks fake. This is for legit bloggers, my friends.] No, your blog does not need to be about handbags or fashion. Any kind of blog will do, so long as it's a bona fide blog.
One Entry Per Blogger. Sorry, no, you cannot enter a gajillion times. Only once. One entry per blogger. If you author fifty blogs and enter fifty times, that's cheating and while I'll probably never find out, it's gonna be on you. Let's play fair. One blogger, one entry. If you host multiple blogs, you get to choose which one blog to enter under.
Comment. Leave a comment to this post so I know you've entered. I'll be selecting the winner at random from the comments section. So if you don't leave a comment, you can't possibly win. Does that make sense? =P Also, be sure you leave in your comment an easy way for me to privately message you in the event you win.
Share Via Twitter or Facebook. Share through either your Twitter or Facebook account a link to TZ. You can link this blog directly, blog.tarynzhang.com, or the TZ website, tarynzhang.com.
Subscribe to this Blog. Subscribe to this blog with either Bloglovin' or your blog reader of choice. For quick links, see the right hand side bar.
Alas, there are more guidelines… keep reading… I know. I'm horrible.
ACTIONS REQUIRED, POST-GIVEAWAY:
Once I've selected at random a winner for this giveaway, the winner agrees to do the following after he or she has received the purse hook:
Post a blog entry with some reference to Taryn Zhang. Whatever you want. I trust you. The focal point of the post does

not

have to be about TZ, by the way. I'm self-centered, but not that self-centered. After you receive the purse hook, post something on your blog about Taryn Zhang New York. You can do a whole post featuring TZ, any one aspect of TZ, the purse hook you just got, whatevs. Go nuts. Or you can simply reference it sweetly somewhere in the post and make it seem like TZ relates to whatever was the focal point of said post. Hey, I'll take that too. Be sure to link me to your post once it's up. =)
Give away that second purse hook. Give it to your mom, your best friend since preschool, your roommate, another fellow blogger, host a giveaway on your own blog,

anyone at all

who you care about. That's the only condition: someone you care about. No, sorry. Make it two conditions: (1) someone you care about, and (2) someone who will actually put a purse hook to good use. Yeah. That second condition makes sense, right? Be sure to let me know who you gave away that second purse hook to and, to satiate my curiosity, also let me know why you chose that person.
Complete post-giveaway actions soon. I'm not going to stamp on here a set time frame or deadline. But get it done within reason. I would say a month is within reason. If you suddenly get slammed with work in your life, within a couple months is okay, too. You get it, right?
True, the post-giveaway part that is to happen after I've selected the winner and sent out the purse hooks is a leap of faith on my part, but one I'll gladly take. I've had an amazing, positive experience via this design diary, so I'm in!
Okay. That's all of it. Bloggers' giveaway to close on December 19. Love you!