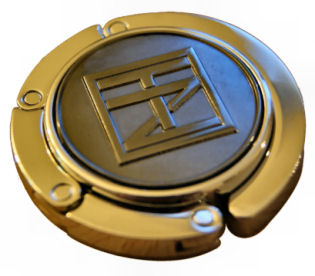 I know I've been inactive on this blog for the past few months, and I feel bad about that. So to segue me back into activity here on this design diary, I'm holding a bloggers' giveaway, just a small one. I'm giving away two Taryn Zhang purse hooks. (Click on that link for more info on these nifty little doodads.)
Why two? Well, dear, because it is the giving season now. One is for you, and one is for you to give away. =)
Whatcha gotta do? Here's a summary:
Checklist:

[  ] You're a blogger.

[  ] Leave a comment to this post.

[  ] Share link to this blog on FB or Twitter.

[  ] Follow this blog in your blog reader.

If you win and I've sent you the purse hooks:

[  ] Blog about this blog on your blog.
The winner will be selected at random about two weeks from now, on December 19.
That is basically all you need to know/do to enter. If you still have questions, though, more deets after the jump.